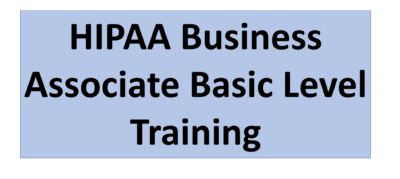 All Business Associates (BA) under HIPAA rules are required to comply with the changes added to the HIPAA rule due to the Health Information Technology for Economic and Clinic Health Act (HITECH) Act, enacted as part of the American Recovery and Reinvestment Act (ARRA) of 2009. Like covered entities all, BA employees should complete training in privacy and security rule based on their involvement in HIPAA compliance.
For less than 50 employee businesses, we suggest that the company should get their HIPAA privacy/compliance/security officer trained at the highest level of Certified HIPAA Privacy Security Expert (CHPSE). You may have questions like Which employees should be selected for CHPSE training? How many employees should take this training? How to choose the right training company? What are the training requirements for sub-contractors who have access to the patient's PHI?
We can answer all your questions and provide free guidance on your next steps to achieve compliance and how to use certification logos to win new business from your clients.
All Employees need basic level training. Select Certified HIPAA Privacy Associate (CHPA) training if you want employees to be certified with CHPA credentials. You can use the logo on a resume, signature, flyer, website, and marketing purpose. If you do not need a certification, then you can take the 1-hour employee training.
For more than ten employees, ask us about the discounted prices.
Target Audience: Business Associate Training for HIPAA
Types of companies that can benefit from this HIPAA training include:
Medical transcription
Medical billing
Record storage
Insurance brokers
Third-Party Administrators (TPA)
Software companies
Collection agencies
Attorneys
Answering services
Consultants
Actuaries
Medical device manufacturers
Cleaning services
Medical couriers
Recycling company
Healthcare clearinghouse
Pharmaceutical sales representatives
Email encryption services
Web Hosting & Cloud Storage
Training Options for Business Associate Employee Overview Certification
-Select Your Course Version-
If you are a covered entity, then select your course from following…
USER RATING:
HIPAA Business Associate Basic Level Training is rated 4.8 out of 5 by 2122 users.