HIPAA Certification: Certified HIPAA Privacy Associate (CHPA)

This nationally recognized HIPAA credential is an entry-level certification for those who are seeking HIPAA overview training on privacy and security rule. There is NO prerequisite for taking this certification course. This credential is recommended but not limited to:
Covered entity general employees
Healthcare professional
Business associates general employees
Interns
Medical students & Medical observers
Volunteers
New hires in a healthcare organization
Pharmaceutical sales representative
Medical device sales representative
Insurance broker
Lab technicians
Pharmacy staff
We also recommend that if you have any of the following credentials, then consider taking this course.
Family Nurse Practitioner, Registered Nurse, Master of Science in Nursing, ARNP and other Nurses
Master of Public Health (MPH)
Insurance agent
Certified Professional Coder (CPC)
Registered Healthcare Documentation Specialist (RHDS)
To understand how you can use the CHPA logo and certificate to help grow in your career, visit this page of How to use HIPAA logo and certificate to your benefit.
CHPA Certificate Test:
You are tested after you complete the full online course. You need to pass the 12 questions test (6 questions per chapter) with 70% to receive the HIPAA certification of Certified HIPAA Privacy Associate (CHPA).
This test is for 20 minutes only. Ten minutes per chapter are allotted to answer six. Once you start the test, you cannot stop it. This is a time-bound online test. You can take the test from anywhere and at any time. There is no need to schedule the test. Once you start the test, you need to finish it in the allotted time. If you need the timeline allotted per chapter, then the test will stop right there.
| Test Passing Grade | 70% |
| --- | --- |
| Test Format | Multiple-choice questions |
| Testing Center | Time-bound online tests can be taken from anywhere |
| Test Time | 20 minutes (10 minutes per chapter) (2 chapters) |
| Retest Cost | $75 for each attempt (Consider buying the unlimited exam option at the time of registration $75. This is available only when you register for the course. It cannot be bought later on) |
| Prerequisite | None |
| Certificate Validity | 3 Years |
Once you pass your test you can print out your certification immediately but if you do fail you will have to pay $75 to retake the CHPA test.
Retesting for CHPA test:
If you fail on the first attempt, you can take the second attempt without any waiting period. After you purchase the exam attempt, your test will be ready within one business day. We suggest taking the unlimited exam attempt option (only available when you register for the training course) if you don't want the pressure of passing on the first attempt. After you complete the exam, the grade will be calculated based on the total score of all exam chapters.
Certificate valid for: 3 Years
Certificate for Continuing Education Credits:
Students can buy a CE credits certificate for this course at the time of registration. You will receive 2 CE credits for this course through the Approved Provider of California Board of Registered Nursing after completing the course.
Method of Training to get CHPA Certified
Training Options to pursue Certified HIPAA Privacy Associate (CHPA) Credentials:
Sample of CHPA Certificate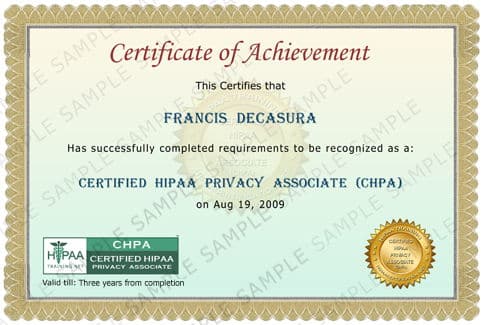 USER RATING:
HIPAA Certification of Certified HIPAA Privacy Associate (CHPA) course is rated 4.8 out of 5 by 5265 users.