Health care provider employees must be trained in HIPAA privacy and security rules and regulations based on job roles in an organization. We have a comprehensive HIPAA online training course for every employee of Payer and Provider. The course provides modules on HIPAA awareness as well as modules that contain information employees need to know regarding Privacy, Security, and Electronic Transaction. This course is best suited for an organization that needs to train employees on the basic HIPAA requirements.
This e-learning training course will help the organization train its entire work population in a timely and cost-effective manner. Online HIPAA Training is devoted to assisting organizations to meet the Administrative Simplification Act section 164.530(b)(1). This section requires employers to provide HIPAA awareness and "Job Role" training. This course is designed to reach all levels of employees having access to protected health information (PHI).
Audience:
Any single individual who works for an organization that provides preventive, curative, promotional, or rehabilitative health care services in a systematic way to patients, people, families, or communities.
Examples:
Hospitals, Private Clinics, Doctors, podiatrists, Physicians, Neurosurgeons, Ophthalmologist, Nurses, psychologists, Medical Schools, Plastic Surgeon, Medical Students, Orthopedist, Pediatrician, Medical Office Staff, clinical optometrists, Pharmacies, Dentists, nurse practitioners, Chiropractors, Allergist, Anesthesiologist, Physical Therapists, ENT Specialist, Massage Therapists, Dermatologist, Radiologists, nurse-midwife, Cardiologists, Hospice, Gastroenterologist, Nursing Homes, Gynecologist, General Psychiatrist, Home Health, Gynecologist, Durable Medical Equipment providers, clinical social worker, Audiologist, Gastroenterologist, Psychiatrists, Rheumatologist, etc.
HIPAA Employee Training Course Outline:
HIPAA Overview
HIPAA  Privacy Rule Overview


What is protected health information (phi)
What information is covered
What is the minimum necessary
The notice of privacy practices (NPP)
What are mandatory requirements?
What is the use and disclosure of phi?
Disclosure of phi for treatment, payment, and health care operations (TPO)
When authorization is not required
Organizational requirements
Required policies, procedures   sanctions
When record access can be denied.
Business associates
HIPAA state law

HIPAA Security Rule Overview

Administrative safeguards standards
Physical safeguards standards
Technical safeguards standards
Breach Notification
Business associates contracts
Free HIPAA Training Demo
Healthcare Sample Certificate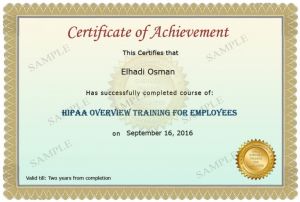 Print your HIPAA certification immediately online upon successful completion of each course
HIPAA Health Care Employee Course Features
24 x 7 access from anywhere for self-paced online courses
One course for $25 to meet privacy and security awareness training requirement
Courses created by HIPAA Expert with practical compliance experience and security expert
Course updated for HITECH, Omnibus rule, meaningful use, and breach notification
Instantly print or download Nationally Recognized Certificates
Complete your course in one hour and get certification
Online course with audio and PowerPoint slides for easy understanding of training
American Disability Act (ADA) compliant course format and delivery
56 pages printed color manual available for purchase
Online courses compatible with windows, apple, iPad, and other tablets
Option to upgrade to Certified HIPAA Privacy Associate (CHPA) credential. Spanish Version is available too for CHPA.
Complete compliance solution available based on your specific needs
Unlimited Phone and Email Support
One Hour HIPAA Overview Training Certification Test
Students are only tested once upon completion of the course, and they have to reach a 60% pass mark from the 10-question test for them to receive the One Hour HIPAA Overview Training Certification. The exam can be repeated until the student passes the test.
The test typically takes 10 minutes, and it can be taken multiple times until you pass the test. Once you pass your test, you can print out your certificate immediately.
Test Format: Multiple Choice Questions.
We can skillfully assist you in determining your HIPAA training need and the best training combination for employee learning objectives to meet the HIPAA regulation requirements and prepare the HIPAA compliance team.
Certificate for Continuing Education Credits:
Students can buy a CE credits certificate for this course at the time of registration. You will receive one CE credit for this course through the Approved Provider of California Board of Registered Nursing after completing the course.
Training Courses For OSHA And Medicare
-Select Your Course Version-
GLOBALLY HARMONIZED SYSTEM (GHS) FOR HAZARD COMMUNICATION
30 minutes. $25 (self-paced with audio)
MEDICAL FRAUD, WASTE & ABUSE COURSE FOR MEDICARE / MEDICAID
1 1/2 hours. $25 (self-paced with audio)
BLOODBORNE PATHOGENS TRAINING
1 hour. $25 (self-paced with audio)
SOCIAL ENGINEERING CYBERSECURITY AWARENESS COURSE FOR ALL EMPLOYEES
4 hours. $45 (self-paced with audio)
Testimonials
Thank you for the good course and information. It was great to understand a better concept of the HIPAA guidelines and procedures.
Jordan Smith
Well organized program. Well done! I appreciated the comments provided as I was reading the text. I learned a lot. Thank you very much.
Nicole Kasemir, RN, HTCP/I
Transitions were smooth and speaker was concise and clear. Volume was adequate during the entire session. Thank you for a great class.
Leslie Callejas
The training video provided a good overview of HIPAA as it was informative and succinct. I think it was a great training, and I learned a lot!
Danielle V
I enjoyed the course. It was easy to access and to understand. The information was relevant and will be helpful in making sure businesses are following HIPAA standards.
Hunter F
Very informative! Thank you for the training course, I am happy to relay the information to our team so we can all be HIPAA compliant!
Whitney Wimmer
Material was good and easy to understand, bob was so helpful in orienting me to the course and made sure i was comfortable to start.
Wardah Rashid
Great material, useful needed material to know for clinical work. Easy to navigate and easy-flow as well.
Frances B
It was a great and informative training that definitely helped. I am motivated to continue what I have learned into my career.
Angie P.
Thank you for all your help. I am not a techy person and every time I needed help, you were very nice and helpful.
Stacey Laro, RN, BSN
Everything is very good and the exam is professional. Everything is excellent. Thank you very much for your great effort.
ALI SALMAN
I am glad I got to go throw this training on HIPAA. It informed me of what I need to making sure I am always doing.
Kelsey Raines, HRC Ministries
Easy and quick. The information is accurate and straight to the point in what you need to know related to all things HIPAA
Samantha S
I learned so much about strategies in protecting patients' health information.
Erwin T. Sano
Grantham University
Thank you. This course was clear and informative of the purpose of the HIPAA policies and procedures
Jenny G
USER RATING:
Health Care Employee Overview Training is rated 4.8 out of 5 by 4421 users.