This course is an annual briefing on the impact of HIPAA, HITECH, Omnibus on Insurance Broker-Agents. This is recommended for all Insurance Broker-Agents having access to protected health information (PHI) and who need awareness training in HIPAA privacy and security rules.
Audience:
Any single individual who works for an organization that provides health insurance brokerage or administration services for employer group health plans.
Examples:
Insurance Brokers, Insurance Agents, Benefits Management Services, Third Party Administrators.
Insurance Broker-Agents Course Outline
Refresher on HIPAA

Definition: Health information
Health Information: Sets and Subsets
Information Covered: Privacy Rule
Information Covered: Security Rule
Minimum Necessary
Required Retention Documentation
Civil Penalties
Criminal Penalties
HIPAA Security Rule – Overview
Administrative Standards
Additional Standards
Covered Entities
Business Associates
Contracting Arrangements
Rules for the BA's
Business Associate Contracts
Business Associate: BA Agreements

Business Associate Close-Up: Insurance Broker-Agents


Business Associate: Health Plan Broker/Agents
Authorization versus Consent
Authorization Requirements
Defective Authorizations
Permissible Activities and Patient Options

HIPAA Today:  Privacy Recap

Breach Notification Requirements
Examples of Breaches
Breaches & Fines
Recent Health plan Breaches
Lessons – Learned?
Ramifications

Agenda


Documentation
Event Response & Risk Assessment
Quick Review

Agenda

What the Future May Hold
HHS/OCR Issuances
Audits: Candidate Matrix
Audits: Planned Approach
Audits:  Results
Outcomes and Trends

Summary
Next Steps
Free HIPAA Insurance Broker Agents Training Demo
Insurance Broker-Agents Sample Certificate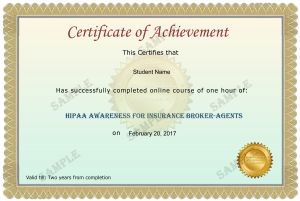 Print your HIPAA certification immediately online upon successful completion of each course
HIPAA Insurance Brokers Course Features
24 x 7 access from anywhere for self-paced online courses
One course for $25 to meet privacy and security awareness training requirement
Courses created by HIPAA Expert with practical compliance experience and security expert
Course updated for HITECH, Omnibus rule, meaningful use, and breach notification
Instantly print or download Nationally Recognized Certificates
Complete your course in one hour and get certification
Online course with audio and PowerPoint slides for easy understanding of training
American Disability Act (ADA) compliant course format and delivery
56 pages printed color manual available for purchase
Online courses compatible with windows, apple, iPad, and other tablets
Option to upgrade to Certified HIPAA Privacy Associate (CHPA) credential. Spanish Version is available too for CHPA.
Complete compliance solution available based on your specific needs
Unlimited Phone and email Suppor
HIPAA Awareness for Insurance Broker-Agents Certification Test
Students are only tested once upon completion of the course and they have to reach a 60% pass mark from the 10-question test for them to receive the HIPAA Awareness for Insurance Broker-Agents Training Certification. The exam can be repeated till the student passes the test.
The test normally takes 10 minutes and it can be taken multiple times till you pass the test. Once you pass your test you can print out your certificate immediately.
Test Format: Multiple Choice Questions.
We can skillfully assist you in determining your HIPAA training need, and the best training combination for employee learning objectives to meet the HIPAA regulation requirements and prepare the HIPAA compliance team.
Certificate for Continuing Education Credits:
Students can buy a CE credits certificate for this course at the time of registration. You will receive one CE credit for this course through the Approved Provider of California Board of Registered Nursing after completing the course.
Training Courses For OSHA And Medicare
-Select Your Course Version-
GLOBALLY HARMONIZED SYSTEM (GHS) FOR HAZARD COMMUNICATION
30 minutes. $25 (self-paced with audio)
MEDICAL FRAUD, WASTE & ABUSE COURSE FOR MEDICARE / MEDICAID
1 1/2 hours. $25 (self-paced with audio)
BLOODBORNE PATHOGENS TRAINING
1 hour. $25 (self-paced with audio)
SOCIAL ENGINEERING CYBERSECURITY AWARENESS COURSE FOR ALL EMPLOYEES
4 hours. $45 (self-paced with audio)
USER RATING:
HIPAA Awareness for Insurance Broker-Agents course is rated 4.8 out of 5 by 1025 users.
Enjoyed the course and was very helpful