Free HIPAA Business Associate Compliance Monitoring Tool for Covered Entity

Supremus Group has different HIPAA compliance forms and templates to help Business Associates get HIPAA compliant and jumps start their HIPAA compliance projects. Below you will find all the HIPAA compliance tools which will help your organization with your HIPAA compliance project requirements and save you a lot of time for your team and thousands of dollars.
Who are Business Associates as per the HIPAA Rules?
Individual or company which works with the covered entity and in that process it creates, receives, maintains, or transmits protected health information for a function or activity including claims processing or administration, data analysis, processing or administration, utilization review, quality assurance, patient safety activities listed at 42 CFR 3.20, billing, benefit management, practice management, and repricing; (for complete definition refer Omnibus HITECH Final regulation of 2013) sub-contractor that works with a business associate who has signed Business Associate Agreement (BAA) with covered entity also has to comply.
How to be HIPAA Compliant?
Most of the business associates do not know the complete requirement to achieve HIPAA compliance, hence most are not compliant with HIPAA rules. The first step we recommend is to assign one person as your HIPAA compliance officer (HCO) who will be responsible for privacy and security rule compliance. The next step will be for this person to take the HIPAA compliance training of CHPSE for your HCO and one-hour overview training for the rest of your staff. This training will help HCO to understand the complete requirements of HIPAA and manage the next steps towards compliance. The company will need HIPAA privacy and security policies and procedures, a security contingency plan, security risk analysis, and ongoing audits.
How can we help you to achieve and maintain your HIPAA Compliance?
The following solutions can help you to get the training for your HCO and buy HIPAA compliance templates to jump-start your compliance.
The first package, for Business Associate with 50 employees or fewer, comes with several options:
We also offer HIPAA Certification for Business Associate and products used by healthcare industry. Many Business Associates are request a proof of your product being HIPAA complaint or your company achieving HIPAA compliance before entering into business with them. Our certification will help you in proving your compliance status.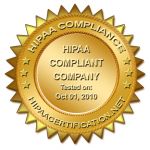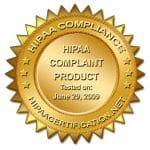 For details on how to achieve the HIPAA compliance seal for your company, services and products, feel free to contact us at Bob@hipaatraining.net or call (515) 865-4591.
We purchased the small business associate template suite for our business. It is extremely helpful in trying to figure out how to become compliant. We are not a doctor's office, hospital, or even a third party medical biller – although any one of those may be our customer. We didn't have anyone in-house who knew much about HIPAA laws and our attorney told us to look for some outside help. Outside help was extremely expensive – we decided to go with the templates from Supremus and although we aren't through all of them yet, -it's a lot!- – so far we are pleased.
USER RATING:
Business Associate HIPAA Compliance Tool for less than 50 employees is rated 4.6 out of 5 by 131 users.